INTERNATIONAL BUFFET SELECTION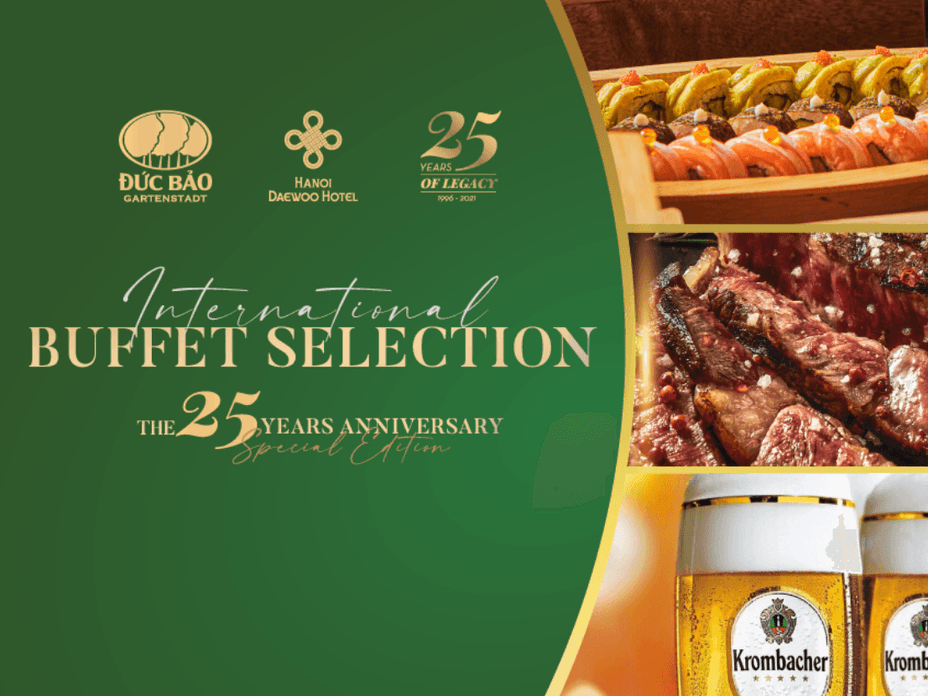 In the intimate and luxurious ambience of Duc Bao Gartenstadt Hanoi Restaurant, indulge in the feast of luscious tastes ranging from freshly-picked sushi selection, salad bar, cold cuts station, cheese selection, oysters, to irresistible mouth-watering desserts - All are eye-catching and extremely stimulating to the taste buds.
Especially, you will be astonished by a choice of 01 main course featuring Grilled Australian Beef Tenderloin, Seafood Pasta, Grilled Norwegian Salmon with Creamy Passion Sauce, Grilled Tiger Prawns with Lemongrass Sauce, German Sausage with Red cabbage & Potato.
International Buffet Selection - The 25 Years Anniversary Special Edition
Price: VND 488.000++/ adult
Time: Lunch & Dinner | 23/10, 24/10, 29/10, 30/10 và 31/10.
Location: Duc Bao Gartenstadt Hanoi Restaurant
For reservation or further information, please contact Hotline: (+84) 901 739 098 or Email: gartenstadthn@daewoohotel.com