HANOI DAEWOO HOTEL MOON CAKE COLLECTION 2021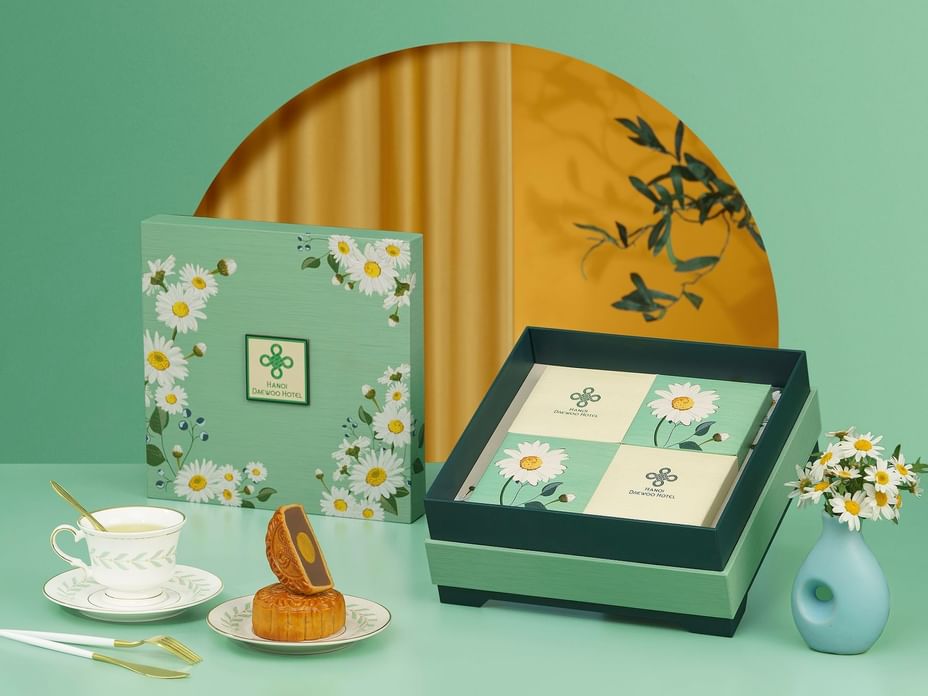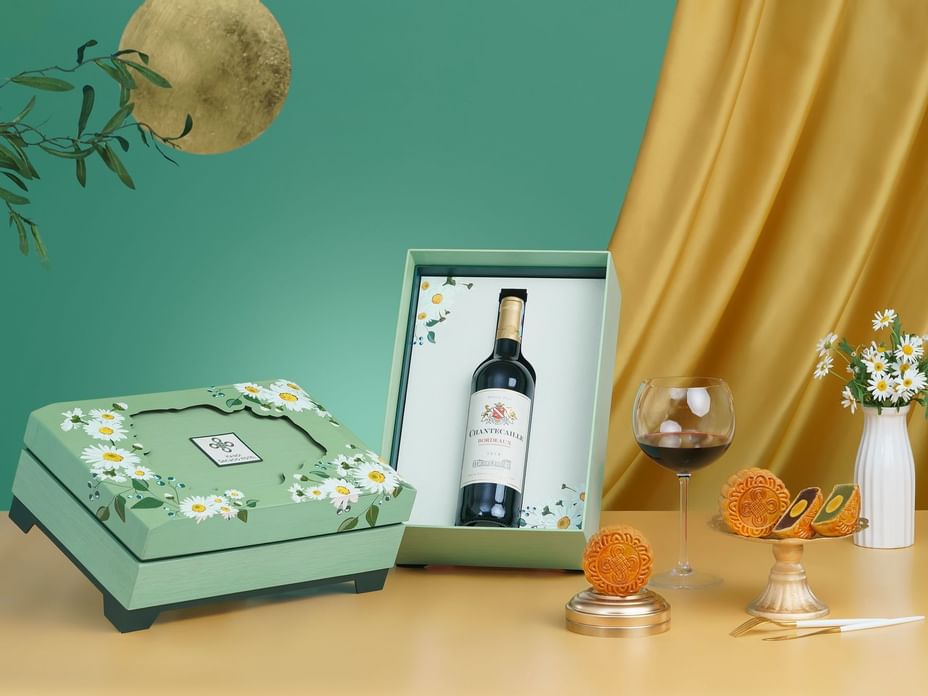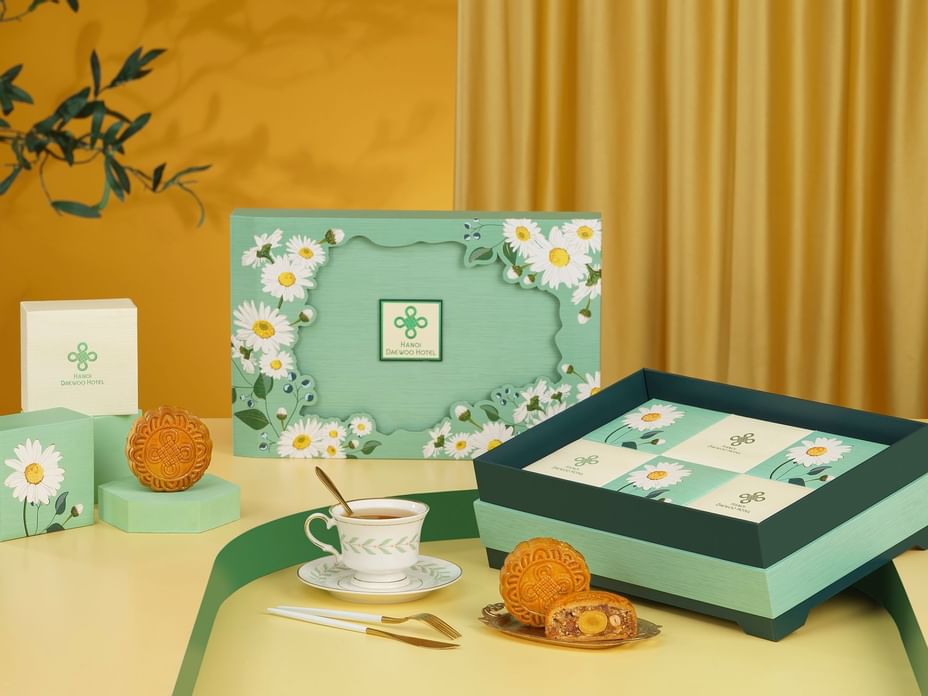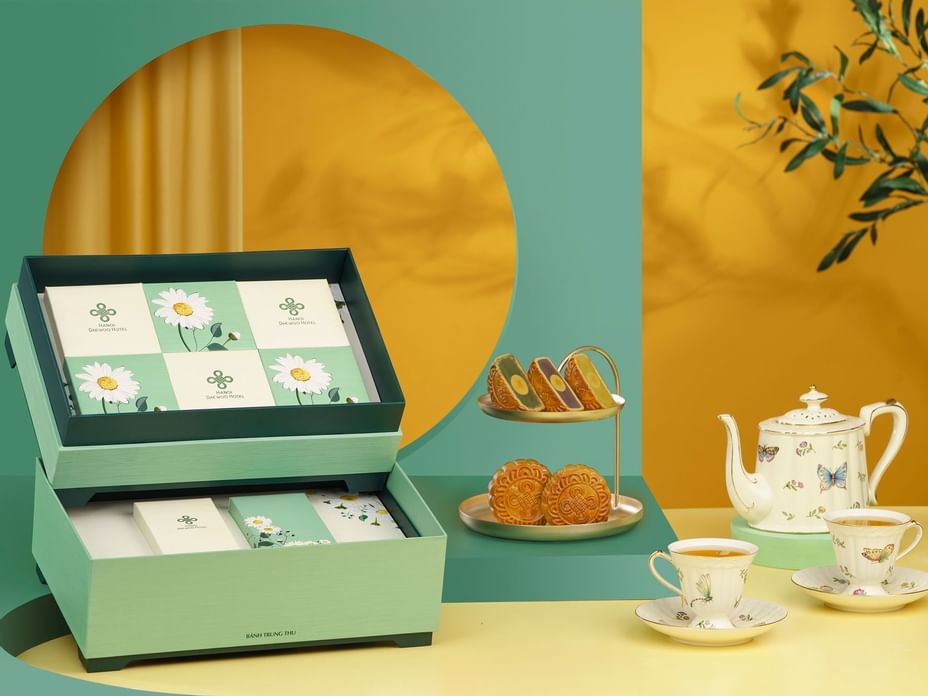 Sending peace though every petal of pure-white daisy
Over the past two decades, the Hanoi Daewoo Hotel's mooncake collections have impressed with its elegant yet luxury, romantic yet delicate designs. Not only is it a precious gift representing a wish of prosperity and gathering in the season of reunion, but it has also played a significant part in sending love and gratitude to loved ones.
Marking a milestone of 25-year journey going along with Hanoi gourmets, this year, a new story will be told with a unique meaning. Inspired by the blossoming of pure-white daisy flowers, the 2021 edition of Hanoi Daewoo Hotel's mooncake collection represents the beauty of Hanoi. The white daisy owns a gentle, pure, simple beauty of a Hanoian - a symbol of nobility, prosperity, and enthusiasm. It feels like a sense of a gentle autumn morning, a sense of love reveling in every daisy petal for anyone who adores Hanoi.
The shadow of the daisy blooms portrayed on a mint-tone box makes it a stylish yet elegant gift for this special occasion of reunion.
Six unique baked mooncake flavors
This mooncake season, Hanoi Daewoo Hotel's "artisans" are proud to present a twist of six irresistible flavors with larger weight (150g/piece). Ranging from smooth taro, pliable red beans, sweet durian, refreshing green tea, tasty lotus seed & green tea to traditional mixed nuts, six types of handcrafted mooncake are an exclusive combination of the finest quality ingredients in town.
Made from the own secret recipe, each luscious mooncake is meticulously shaped under skillful hands of Hanoi Daewoo Hotel's dedicated chefs to deliver a culinary concoction of traditional and modern taste in celebration of Mid-Autumn Festival. This year's exquisite mooncake collection promises to be a luxurious and delicate gift for a peaceful gathering season.
Especially, as part of our ongoing commitment to the community, 300 million Vietnam Dong fundraised of mooncake's revenue will go to Vietnam Fund for Vaccination Prevention of Coronavirus Disease 2019.
Hanoi Daewoo Hotel's 2021 mooncake collection is available at hotel lobby and cake shops from July 15th, 2021. An early bird offer of 20% off for purchase with full payment before August 20th, 2021. Exclusive offer is applied for bulk purchases.
Contact:
Ms. Hồng: 0918 685 905/ Mr. Long: 0904 332 887
Facebook: https://www.facebook.com/daewoohotel
Website: http://www.daewoohotel.com